Mend review: best telehealth platform for large practices with an IT team
Mend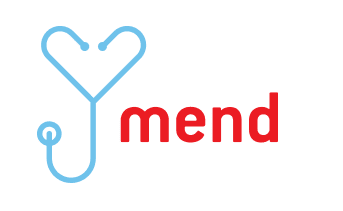 Want the full guide for the best telehealth platforms for private practices? Contact us for a copy.
Why Mend?
You are a part of a growing medium/large (5+ provider) practice with a dedicated IT team.
You have used telehealth before but had a lot of no-shows or cancellations.
You have calculated that a scheduling interface will save you money or you are willing to double schedule telehealth appointments in Mend and in your EHR.
Mend price
Mend does not offer a free plan but does offer free trials for its subscription service which costs $49 to $59 per provider per month for monthly and annual subscriptions respectively.
You can sign up for Mend here.
Mend review
Strength: Responsiveness
Even during an influx of telehealth related requests due to COVID-19, Mend has been responsive and helpful. They receive positive feedback from customers. Their employees seem to enjoy what they are doing. And, like Doxy.me, they have been doing it for over six years.
You or the patient are able to get live support by clicking a "Need Help?" button after logging in to Mend. Their support team is based in Orlando, Florida. They state that they have a 23 second call-to-answer time. They pick up the phone quickly and are polite and helpful.
While some users listed complaints about Mend's support team's technical knowledge, we do not have cause for concern. We believe that their support is satisfactory for their size and product's complexity. Support is more likely to be an issue if you are utilizing an interface, data imports or many ancillary features.
Our conversation with a member of Mend's sales team was productive, professional and pleasant. The representative arrived promptly and prepared. He clearly illustrated what the platform was capable of. We did not feel like we were being sold to. He answered all of our questions, including the technical ones.
Mend will get you the help and advice you need to offer telehealth successfully. That help becomes more valuable as the scope of what you are looking to do increases.
Strength: Extensibility
Mend has more features and workflow options than any vendor we looked at. If you have a weird workflow that there is no getting around, Mend might have a tool for you. While some of these features may not be useful in small practice telehealth workflows (e.g. e-prescribing), having the option to use them is a positive.
Mend can also interface with your EHR. They accomplish this through a very reputable third party that is focused on simplifying interfaces to EHRs. That is a good thing. They are not unnecessarily reinventing the wheel.
Even so, telehealth interfaces with Mend or other companies should only be relied on if there is a clear return-on-investment. If your practice has one or two providers, the interface will not likely warrant its cost or time investment.
Grab a timer and record how long the manual workflow that you want to automate takes. Multiply this time by the number of occurrences per year (e.g. patient appointments) to get the maximum time the integration could save you. From there, you can calculate if the interface will save or cost you money in the long run. Realistically, you will only recover a fraction of this potential savings even if you reallocate work/resources effectively.
Mend has a robust form creator that allows you to recreate any of your intake paperwork digitally. This tool is convenient but not vital for most telehealth workflows. Your EHR may have this functionality. Small practices should limit complexities to appeal to the patient-consumer. Often, a simple consent and background ROS will suffice.
Mend offers an Android and iOS mobile app which can be useful for providers on-the-go. Both have average ratings (three to four stars) which is not bad for a lean B2B-focused healthcare company.
Mend will also import your patient data for free. This service is less valuable if you are seeing new patients every day. Patient data is often outdated shortly after an import. You would need an interface (preferably bi-directional) to keep your schedule up-to-date if double scheduling in Mend and your EHR is not feasible. That said, an import should be convenient if you are not seeing many new patients.
Mend is constantly adding new features and incorporating feedback into releases. If you have a concern with telehealth or a challenging workflow, ask their sales team about it. The conversation will be worthwhile.
Opportunity: Streamline pricing and offerings
If you are a very small practice trying to offer telehealth as quickly, simply and cheaply as possible, the additional $600-$800 per user per year over Doxy.me's free plan is harder to justify.
Larger practices may be able to justify this premium. Integration and premium support start to pay off when a lot of people are engaging with the platform every day.
Mend's base subscription may not include everything you need by default. Group scheduling, payment processing, digital forms and surveys are available at an additional fee for each module you enable.
We do not have concerns with charging for additional functionality. We do wish Mend's marketing materials were more up front with what is not included in their base package. Similarly, Mend could better educate consumers about their support team's availability.
Mend advertises a PredictiveIQ feature that uses analytics to help reduce no-shows. There is not much documentation about how this feature works. We urge caution when letting buzzwords influence decision making. If predictive analytics are important for you, ask for references of customers that can speak to how they use this feature and how it helps them in detail.
While a minor critique, we also find their interfacing explanation worrisome. Their website states that "Mend uses API, HL7, SFTP, and other HIPAA compliant methods of exchanging patient and appointment data". There is a lot of misplaced jargon in that sentence.
Mend workflow
Mend's workflow requires that appointments first be added to Mend's schedule. Most providers will double enter appointments into both Mend and their EHR.
Larger practices may benefit from a scheduling interface to eliminate double entry. While not recommended, private pay solo practitioners could instead forgo an EHR entirely and use Mend's schedule.
Double entry is not terrible in practice. It should not take more than 15-30 seconds to create an appointment in Mend.
You should think through your workflow so that your team knows when to reschedule appointments in both systems. You might, for example, add a note or tag to telehealth appointments in your EHR. That way, you know to modify the appointment in Mend after changing it in the EHR.
Add-on appointments can easily be created for walk-in patients. Patients can also self-schedule appointments if they meet certain criteria that you set. They choose their provider, visit type and time and the appointment can be automatically confirmed.
Mend's double-entry or interfaced scheduling workflow allows for robust appointment reminders and notifications. These messages are chiefly how Mend will reduce your no-show rate.
Since you have specified the date and time for the patient's appointment, Mend can send e-mail and text notifications minutes, days and weeks in advance. Ad-hoc text messages can also be generated quickly within the platform.
Patients begin their telehealth appointment by selecting a link that they receive via a text message or email reminder. If enabled, they then complete intake forms and payment. Once you enter the room with the patient, you are notified and can begin the appointment. Mend creates a unique meeting room instance for every patient appointment.
It is very easy to communicate with patients once you are logged into Mend. You can send them a custom text message, share your screen or files, make a sketch or transfer the appointment to another provider.
Transfering the visit is very useful for practices that have dedicated staff that handles rescheduling and payment. You can also set up group telehealth appointments if required.
We could not find anything critical missing in Mend's workflow. With a lot of customization, interfacing and third party extensions, there is likely a way to address all of your core requirements.
Need help setting up or optimizing Mend or another telehealth platform for your practice? Do you need to prepare patient communications, make website updates, design workflows or troubleshoot problems?
Send us a message or give us a call. We are happy to help.
Want the full guide for the best telehealth platforms for private practices? Contact us for a copy.