COVID-19 Waiver Template
COVID-19 has put tremendous strain on the United States healthcare system. It's important to remind patients to take precaution before putting you or those who you care for at risk. This template reminds patients to wear masks, sanitize hands and declare any COVID-19-like symptoms or contact.
Download the COVID-19 Waiver Template here.
Editable Stop Sign Template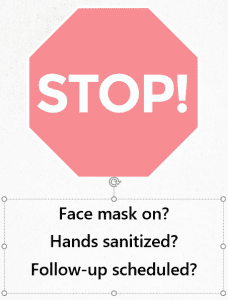 This sign alerts your patients about important reminders or actions. It can be attached to the inside and outside of your exam rooms and office.
The default verbiage can be edited easily in Microsoft Word. It reads:
Face mask on?
Hands sanitized?
Follow-up scheduled?
Enter your email to be sent your editable template. Check your spam folder if you can't find it!
No-show, Late Arrival and Late Cancellation Policy Template
No-shows, late arrivals and late cancellations can ruin your practice's financial stability. You should be upfront with your patients and clients about your policy for these delinquencies. You want to minimize their occurrence and also mitigate their impact on your other patients.
Download meddkit's proposed No-show, Late Arrival and Late Cancellation Policy template here. Be sure to modify it to account for your fee(s).
Text Messaging Consent Template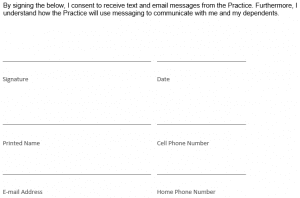 We have provided a sample paper form that you can use to provide proper consent to texting (and emailing) your patients. Be sure to insert your practice name.
It is easier to provide this disclosure electronically. Contact us if you would like help with that.
Enter your email to be sent your editable template. Check your spam folder if you can't find it!
Notice of Privacy Practices Template
HIPAA asks that you provide a Notice of Privacy Practices to your patients to explain to patients how you will use their Protected Health Information (PHI). This notice also reviews a patient's privacy rights with respect to their personal health information. This document should be visible to patients in your office and provided in print or electronic format upon request. You can read more about HIPAA's requirements for your Notice of Privacy Practices on the Department of Health and Human Services' website.
Download meddkit's recommended Notice of Privacy Practices, in compliance with HIPAA's requirements here. Our version includes extra provisions to allow you additional flexibility for contacting patients electronically in order to promote your practice.
General Authorization Form for Release of PHI Template
If your Notice of Privacy Practices does not cover your organization for electronic communication with patients for the purpose of promoting your practice, you will want new and existing patients to complete a General Authorization Form. This document will allow you to release PHI to a specific third-party, like meddkit, for a specific purpose. Download the general authorization form to allow meddkit to promote your practice to your patients here.
Note: These documents are templates only. They do not reflect the requirements of your state's laws. You should consult with advisors (e.g., your state or local medical or specialty society, or legal or other counsel) familiar with your state's privacy laws prior to using these documents. Meddkit does not provide legal advice and any documentation used in compliance with HIPAA, your state's, municipality's or federal laws should be reviewed with an attorney.