Meddkit helps masseur with IT to start massage therapy business
Korey Russell owns True Massage Therapy, a successful massage therapy business in Center City Philadelphia. But, less than two years ago, Korey was working part-time and the thought of starting his own massage therapy business was terrifying.
Dreams of starting a massage therapy business
I was working at a chiropractor's office in Philadelphia with the dream of opening up my own massage therapy business…But I was finding it difficult and scary to get everything done to make that happen.
Korey's clients loved his personalized massages which address the underlying physiology. But, he needed help getting technology in place to ensure that a new massage therapy business would be successful.
The leap: starting True Massage Therapy
In September of 2018, Korey decided to partner with meddkit. He left his employer and took the leap.
[Meddkit] has given me the tools and support I need to grow my business. They've encouraged me and helped keep me focused on my goals. They've marketed my services, crafted me a new website, designed logos, taken professional photos and have given me regular business coaching. It's nice that they only support healthcare workers, so they know my world.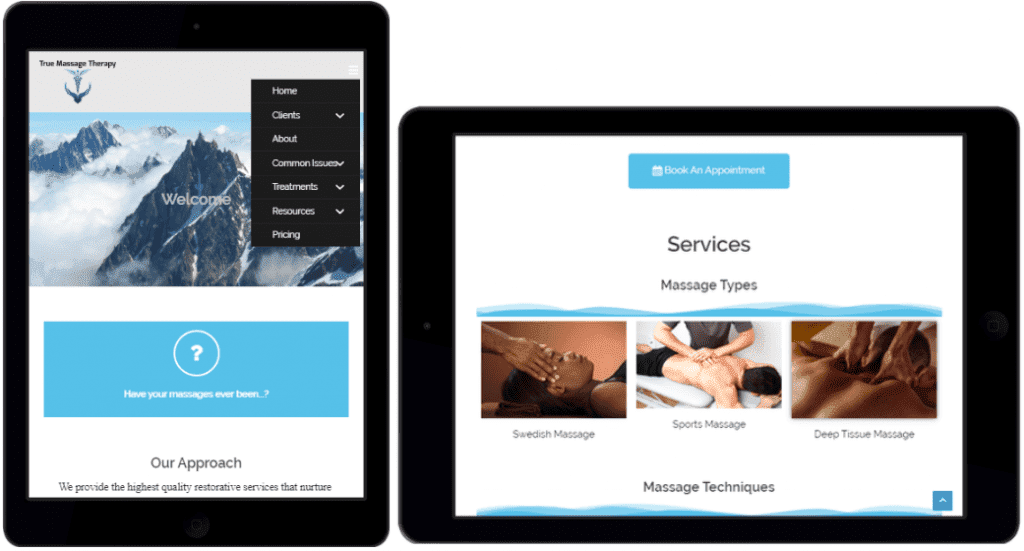 How meddkit has helped
Korey had to make sure that people could find and book him online. He needed an easier way to complete intake. Korey also needed a new website and a lot of positive online reviews. Fast.
Korey did not want to waste his own time with IT. He preferred to help people with what he loves: massage therapy. He wanted a partner that he could text or email when he needed technology support. Or a word of encouragement.
They have been very responsive and they meet with me as often as I need with suggestions to improve my business. I like how they have made as many updates to my website as I need, all without extra costs. I'm too busy to do this myself.
Focusing on what matters
Korey loves massage because he loves making people feel better. Regular massage, Korey believes, offers many health benefits like reduced pain and stress. These benefits come without the harmful side effects of alternatives.
It has been an honor for the meddkit team to be Korey's "outsourced IT Director". We have enjoyed helping him start his massage therapy business. We started meddkit to support individual, passionate healthcare entrepreneurs in improving their patients' lives.
Korey's heart for his clients is evident in every massage. It is no surprise that he was able to realize his dream.
I have opened up a practice of my very own in Philadelphia and am grateful to know meddkit has my back and can be a sounding board for me as I grow my business and get to focus on what I enjoy: helping my clients.

Korey Russell